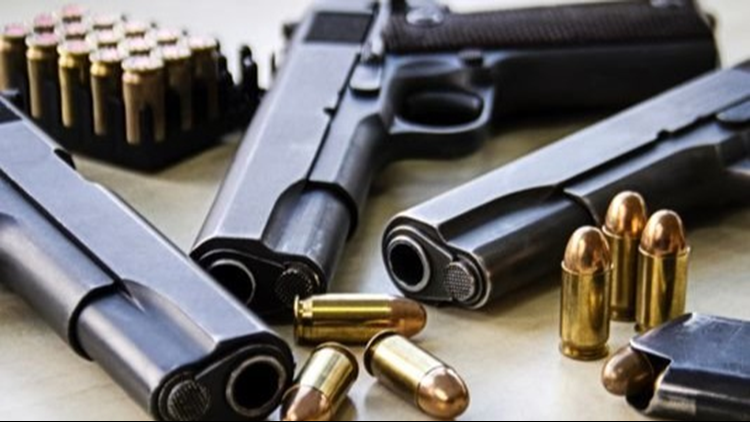 (Photo Credit: Thinkstock)
Published: March 16, 2018
By: Brianna Jones-Williams, Martha Ramirez, LSU Manship School News Service
BATON ROUGE — Just five days after the tragic Marjory Stoneman Douglas High School shooting in Parkland, Florida, police in Thibodaux received a tip that a 17-year-old student had put together a list of schoolmates he wanted to kill with a shotgun.
A school administrator reported on Feb. 19 that Keith Usea previously had threatened students and that he had created the kill list. Detectives learned that another 17-year-old student, Mason Dupre, was planning to help Usea, and both are now being held in jail on terrorizing charges.
The attack in Florida, in which a 19-year-old killed 17 students, has set off student protests and a national debate about whether to ban assault weapons and raise the minimum age for buying a gun. President Donald Trump has talked about raising the age requirement from 18 to 21 but has not called on Congress to do so.  He also supports arming teachers.
Gov. John Bel Edwards has said he supports tightening background checks on people who have been convicted of a violent crime or have mental illness, and state legislators have introduced bills to arm teachers and let students wear bulletproof backpacks.
But no Louisiana officials have called for re-examining the state's fairly lax laws for simply possessing a gun. And some parents say it is time to look at that as well.
Louisiana is one of only seven states that allow 17-year-olds to possess handguns, and the state does not have a minimum age to possess shotguns and rifles.
Forty-three states do not allow minors to possess or purchase handguns under the age of 18, unless, in some states, their parents give written consent. Nineteen of those states do not allow anyone under 18 without parental consent to possess rifles or shotguns.
Al Carter, the father of a girl who was on Usea's kill list, said he believes that the minimum age for all firearms including shotguns and rifles should be 21.
"We are saying that teenagers can have a gun but not drink beer because it's dangerous and not safe," said Katie Portier, a Houma mother who founded the Terrebonne Safe Schools Coalition. "I think that says a lot."
Portier believes that the Louisiana Legislature needs to take a hard look at age limits, accessibility to rapid-fire guns, and background checks.
In Louisiana, the minimum age is 18 to purchase tobacco and 21 to buy alcohol or gamble.
Though Louisiana law does prohibit selling firearms to anyone who is under the age of 18, 17-year-olds can still legally possess one as long as they do not purchase it themselves. Seventeen-year-olds also can openly carry guns in Louisiana without a permit.
Many can buy them "on the black market, from friends or someone buys the gun for them," according to the Gun Violence Archive, a non-profit organization based in Washington, D.C., that compiles data on gun-related violence.
The Giffords Law Center to Prevent Gun Violence, which studies gun violence and is based in San Francisco, says it is common practice to set legal ages for activities that require maturity, such as voting, driving and drinking alcohol.
"Purchasing and possessing a firearm necessitate the same, or greater ability to act responsibly," the group says on its website.
Read more at WWLTV.com.