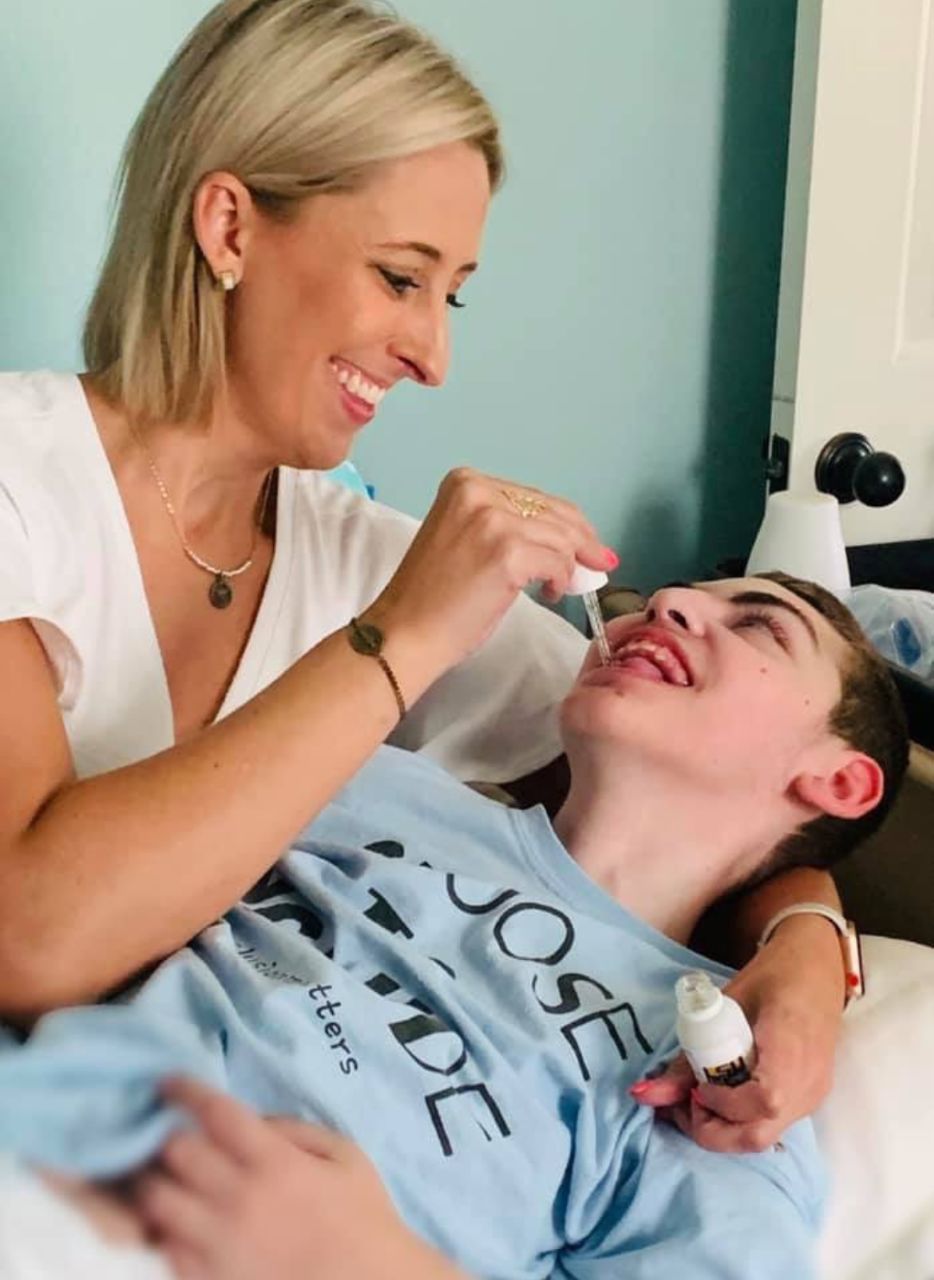 Published: January 8, 2020
By: Lara Nicholson, LSU Manship School News Service
Katie Corkern is a mother of three sons in Amite. One of her sons is Connor, 13, who has a birth defect in his brain. For most of his life, he has experienced between 50 to 200 seizures each day.
He is unable to function independently and suffers damage to his brain, liver and other organs from his array of anti-epileptic medications.
"His neurologist had come to a point where we were just at a loss," said Corkern. "We tried so many different medications, we tried surgeries, we did diets, and nothing was really relieving him from the constant seizure activity in his brain.
"At that point, he was on seven different anti-epileptic seizure medications," she said. "The side effects were devastating, along with the constant seizure activity. At some point, the doctor said, 'Well, the last thing I would recommend is medical marijuana, but that's not legal here in Louisiana.'"
Thus began Corkern's journey, along with state Sen. Fred Mills, R-Parks, and many other advocates to legalize medical marijuana in Louisiana. That happened in 2016, but the therapeutic use of marijuana is just gaining momentum here after a slew of delays and regulatory setbacks.
Roughly 3,500 patients in Louisiana are using it, mostly to relieve pain, and some see it as a substitute for highly addictive opioids. And with more supporters of the program joining the state Legislature this year, it may be expanded to provide greater accessibility statewide.
For Connor Corkern, using medical marijuana has lessened some types of seizures by 75 percent, according to his mother, along with giving him the ability to now clap and express emotions.
The average age of medical marijuana users in the state is 52, and the most common condition is intractable pain. Thirteen percent of users are PTSD patients, while 26 percent of the patients are recovering opiate users.
Mills said that "folks tell me, 'I was on opioids, and now I'm on medical marijuana. I'm not having the side effects, and I'm more productive.'"
The state has approved two facilities to grow marijuana for medical use: the GB Sciences Louisiana location at the Louisiana State University Agricultural Center—recently bought out by Wellcana Plus LLC— and Ilera Holistic Healthcare at Southern University.
Licensed doctors recommend marijuana to patients rather than prescribe it to protect themselves from federal laws that prohibit the use, sale or distribution of marijuana. The patients may receive their medication through a 30-milliliter tincture, which is a concentration dissolved in an alcohol solution for oral consumption.
Tinctures are made with cannabinoids THC, or tetrahydrocannabinol, and CBD, or cannabidiol. THC combines with receptors in the brain that control mood and pain to create a sense of euphoria in users. CBD creates no "high" for users but increases attentiveness, lowers anxiety and relieves inflammatory pain.
Read more at The Ouachita Citizen.