Published: April 13, 2021
By: Matthew Bennett | LSU Manship News Service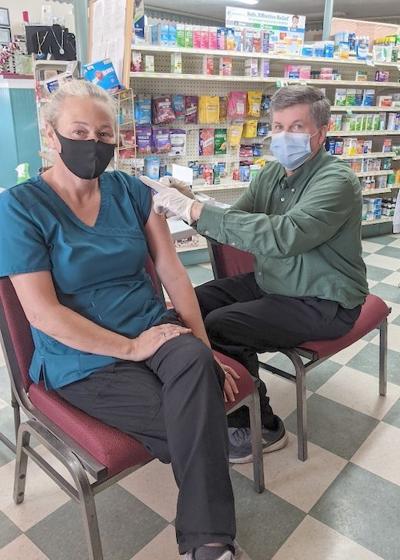 Constant phone calls and entering names onto growing lists, deleting old names and re-arranging others after cancellations and no-shows, juggling a varying number of COVID-19 vaccines from one period to the next – this is what mom-and-pop pharmacies around the state have been doing along with their regular services.
"You might have to make a list of a thousand phone numbers, and a hundred of those have probably already gotten the vaccine," said Jimmy Taylor, lead pharmacist at Don Chaucer's Pharmacy in Hammond. "We've never done anything like this. You can't just walk in and get a COVID vaccine like the flu. It's a learning curve for all of us.
"If we have a heavy day, we have to bring in nurses to give the shots for me so I can keep running the pharmacy," he said.
Out of the 486 vaccine providers in the state, 102 independent pharmacies represent over a fifth of distribution sites, according to the Louisiana Department of Health. While distribution of the COVID-19 vaccines was a new and challenging task for all distributors, many of the independent pharmacies lacked the infrastructure of the drug-store chains and hospitals to be able to administer large quantities of shots daily.
Randy Creel, the owner of Creel's Family Pharmacy in Franklinton, described the distribution process as "very hectic." He said he has spent most of 2021 giving 20 vaccines a day while filling prescriptions and handling other duties.
"We were getting people from all over South Louisiana coming in," Creel said. "It's just an extra amount of work by the time you do the paperwork, get the patient's information, get the insurance and put it in the computer. You do that 20 times a day on top of checking prescriptions [and] talking to doctors and customers."
Despite these challenges, mom-and-pop pharmacies are a crucial piece of the vaccination puzzle, particularly in rural areas.
Rural Louisianans trail urban residents by 31% in COVID-19 vaccinations, according to a recent analysis by The Daily Advertiser in Lafayette.
With more than 2.5 million Louisianans living outside of urban areas, local pharmacies could help boost those rates by giving people a chance to receive the vaccine from familiar faces they trust.
That could become even more important with news Tuesday that federal regulators are pausing deliveries of Johnson & Johnson's vaccine to check into a rare blood clotting problem. There have not been any safety problems with the earlier and more widely distributed vaccines made by Pfizer and Moderna.
Read more at The Advertiser.com