Failing to achieve a GoFundMe goal can be a death sentence for diabetics.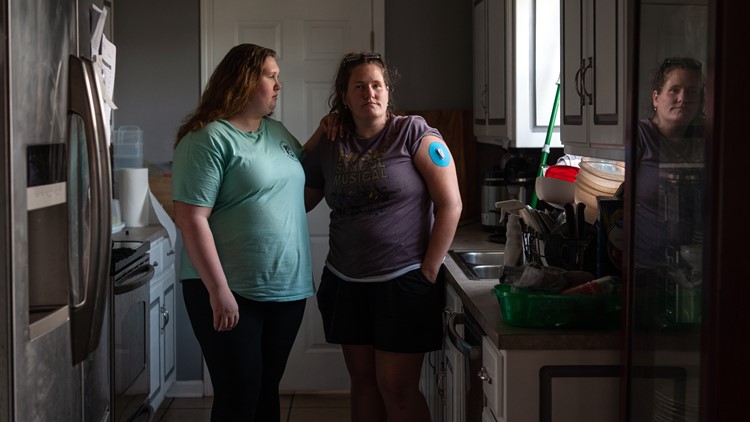 Published: Aug. 23, 2021
By: Baily Williams, Mississippi Center for Investigative Reporting
MISSISSIPPI, USA — GoFundMe began as a place to support social and similar causes, but now families battling diabetes are using the fundraising platform as a last-ditch attempt to cover the skyrocketing price of their life-saving drugs and supplies.
"My mom needs insulin to live," Zoë Massery of Ward, Arkansas, pleaded in her fundraiser. "I don't know what I would do without my mom. I am 16 years old and still need my mother. I see the stress that my mom and other people have of wondering if they are going to be able to get the stuff they need to live along with tons and tons of other bills."
Her mother, Courtney, is one of more than 9 million Americans dependent on insulin in the United States. Deep South states like Arkansas, Mississippi, Alabama and Louisiana have some of the highest diabetes rates in the country. The Massery family is among the many desperate to find funds somewhere to cover the costs of drugs and supplies that keep them alive.
There are approximately 3,728 campaigns still present on GoFundMe that mention both "insulin" and "diabetes." Almost 1,000 GoFundMe accounts mention insulin pumps. Even after insurance, some campaigners reported that they needed $7,500 out of pocket for their insulin pumps. Monthly sensors for glucose monitors can cost around $250. Others express urgency to raise funds for their monthly supply of insulin, which for some costs $1,600.
Crowdfunding, which raises small amounts of money from a large number of people, occurs predominantly through posting social media and online platforms like GoFundMe.
Zoë Massery created a GoFundMe campaign on Feb.11 titled, "Help our mom with her diabetic supplies." The teen had witnessed insulin prices fluctuating throughout different presidencies, as well as sacrifices her family made to afford it. Her frustration motivated her to surprise her mother, Courtney Massery, with a fundraiser to alleviate costs.
Courtney Massery was diagnosed with Type 1 diabetes in 1985, when she was a year old. Her pancreas ceased producing insulin, a hormone instrumental for regulating blood glucose levels. Massery, now 38, said pharmaceutical companies continue "gouging" insulin prices to where diabetics can't afford it.
However, Massery's feelings were mixed after learning of her daughter's project.
Read more at 4WWL