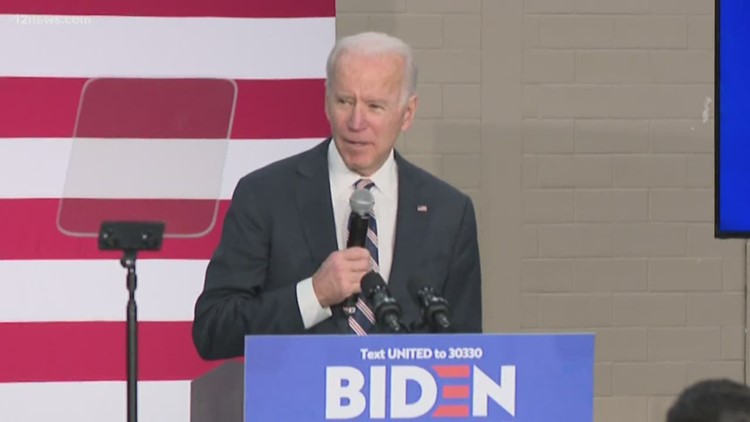 (Photo Credit: WWLTV)
Published: February 3, 2020
By: Lara Nicholson, LSU Manship School News Service
DES MOINES, Iowa—Just as on the national debate stage, Joe Biden's campaign appearances in Iowa can be uneven. He can exude experience and expertise. He can appeal to America's best instincts. Or he can also get lost in his long-winded answers that can wander on and extinguish whatever excitement he and his crowds can muster.
With caucus night on Monday, Feb. 3, the former vice president has had Iowa much to himself since the Senate impeachment trial tied up Sens. Amy Klobuchar of Minnesota, Bernie Sanders of Vermont and Elizabeth Warren of Massachusetts. But how well Biden has capitalized on the moment is as unpredictable as his rally performances.
Just how unpredictable can a veteran campaigner be? In early January, as Biden was gearing up for a month of Iowa campaigning, Biden showed his two sides. One was the knowledgeable former vice president and senator; the other was a tired, aging politician who didn't bring much passion to the stage and generated even less among a sleepy crowd.
The long-winded Biden showed up several weeks ago at what became a dismal performance in a Des Moines elementary school gym. At a rally scheduled for 7:30 p.m. — late by Iowa standards — he showed up nearly two hours late to a crowd that was literally standing around, mostly without chairs, boxed in by hard, bright white gym walls, few windows and little room to breathe.
Without apology, Biden plowed ahead with a 20-minute speech, covering everything from the values his grandfather taught him to a superficial, three-soundbite plan to fix the country: restore the soul of the nation, rebuild the middle class and reunite the country.
"Putting America first means putting America last," Biden said on more than once.
Each topic faded into the next, with no punchline for voters to take away.
Then came the questions, of which he managed to take only three before the evening ran past 10 p.m..
The first question was straightforward regarding the vaping epidemic in the country, and Biden took only two minutes to answer.
The next was slightly more involved regarding the Gulf War and Osama Bin Laden. For that he placed all fault on former President George W. Bush in a quick six minutes to answer.
"We will follow Bin Laden to the gates of hell if we have to," he quoted Obama's staff as saying.
The final question was from a 14-year-old boy who wanted to know how Biden would create more equality in education.
That answer lasted for 11 minutes, in which Biden vowed to fire Betsy DeVos, Trump's education secretary, address mental health care in schools and provide free degrees from community colleges before ending with what Biden described as the rise of a fourth industrial revolution. Each topic was freighted with statistics, quickly causing some attendees to lose interest and even doze off.
"Early education is a kite string that lifts our national ambition," he said along the way.
Read more at WWLTV.com.