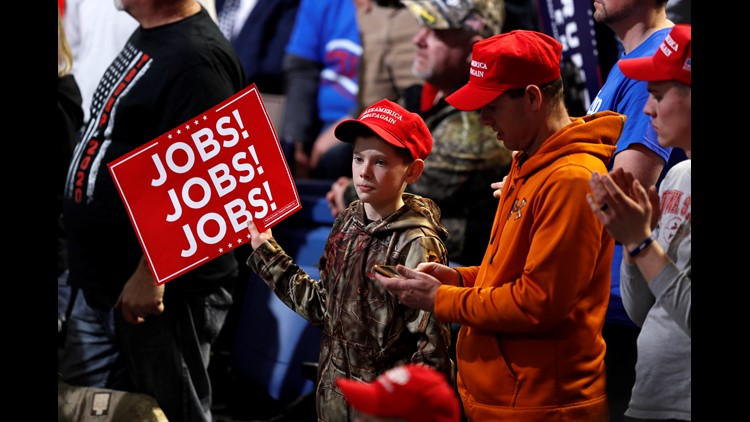 (Photo Credit: AP Photo/Charlie Neibergall)
Published: February 3, 2020
By: Will Mari
DES MOINES, Iowa — "Do you want some of my beef jerky?" asked the man, a producer for Vice Media.
The risers were shaking in the indoor stadium at Drake University, as we waited for the arrival of President Trump at the Knapp Center on a cold Thursday night ahead of the Monday caucuses in Iowa. The salty smell of popcorn and hotdogs from the concession stands was wafting into one of two designated press areas, and I had said aloud that I was hungry.
I told him no thank you, but appreciated the offer—I had heard from friends and other colleagues that the experience of attending a Trump rally could be challenging for reporters, but I went back to my note taking feeling more assured.
A few minutes later, an alumna from our program came over to say hello—she had noticed my purple LSU hoodie poking out from under my blue sports coat. We talked for a few moments.
I explained I was there to work on a research project on how journalists pick their sources. She gave me her card and some tips, and wished me luck. I must have looked a little nervous. I had covered political rallies before, but this felt different.
Below, Jeff Kaufmann, the state's GOP party chairman, was firing up the crowd. They roared their approval.
Kauffmann, who has a Ph.D. from the University of Iowa, referred to himself as "Dr. Deplorable" — he's taught history and government at Muscatine Community College. My ears perked up a bit at that—I had gone to a community college, too, and could identify with being told I wasn't capable, or smart.
A source once told me to my face that my stutter meant that I'd never work in journalism.
Like Kauffman, I come from a military family — and I have served in the military (though I should note here that my opinions are my own). Like Kauffman, I am an academic, working an assistant professor of media law and history at the Manship School at LSU.
After he left the stage, the strains of "Norma Jean," "The House of the Rising Sun" and "YMCA" blasted the arena, as my fellow media types prepped their cameras and typed up stories, taken from interviews in the milling crowd below, more than 7,000 strong.
When Vice President Pence arrived, I made my way down to the floor, and found an awkward spot among a sea of tripods and microphones in the other media "pen."
Even as senators back in Washington, D.C., were debating the admission of witnesses and still in the midst of questions for his impeachment trial, the President came on. The crowd's rumble grew to a crescendo. That, combined with the supercharged soft rock, shook my worse-for-the-wear portable keyboard, its "5" key long since broken.
Read more at WWLTV.com.