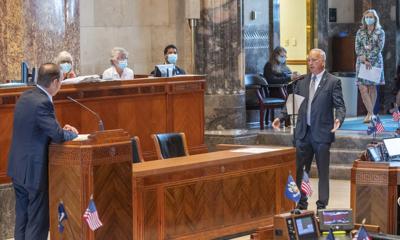 Published: June 29, 2020
By: Catherine Hunt, LSU Manship School News Service
With the special session nearing the end, the Louisiana Senate passed Monday possible compromise legislation aimed at lowering auto insurance rates by limiting lawsuit options in state district courts for people injured in car wrecks.
House Bill 66, sponsored by state Rep. Richard Nelson, R-Mandeville, advanced on a vote of 35-to-3, with seven Democrats voting in support. The House last week passed Nelson's measure, 82-9, with 21 Democrats voting for it. The legislation returns for the House to consider amendments added in the Senate.
The special session, which began minutes after the regular session adjourned June 1, must end by 6 p.m. Tuesday.
Unlike Talbot's bill, it would reduce the default number of jurors to six from 12 to try to lessen the burden on courts and jurors. Judges expressed concerns that Talbot's bill would overwhelm courts with jury trials and that rural areas could have trouble finding enough jurors for personal injury cases.
In another compromise, Nelson's bill includes a mandatory rate reduction and a sunset provision that would repeal the law if rates did not decrease by at least 15% after three years. Democrats opposed Talbot's bill because it did not mandate rate reductions, and Republicans refused to include language that would repeal the legislation if the changes did not result in lower premiums.
Unlike any other legislation on this issue, Nelson's included comparative fault language that would prevent injured plaintiffs from recovering damages if they are found by courts or juries to have been more than half at fault for the injuries. Twenty-three states have comparative fault, said state Sen. Patrick McMath, R-Covington, who handled HB66 in the Senate Monday, and 14 states with low car insurance rates have the same provision.
Nelson's bill also would prohibit insurance companies from setting rates based on a driver's gender if they are over the age of 25.
Democrats sponsored bills that would have tried to lower insurance rates by prohibiting insurance companies from determining rates based on age, gender, marital status, and credit score, but faced opposition from Republicans. Edwards has said he supports these measures and that he believes "discriminatory practices" need to end in order to lower rates.
Read more at The Advocate