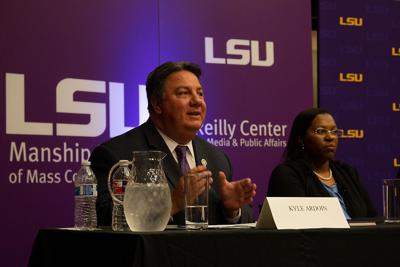 Published: April 22, 2020 
By: Matthew H. Schmitt, LSU Manship School News Service
BATON ROUGE–House and Senate committees on Wednesday approved an emergency plan that delays the state's presidential primary until July 11 and limits efforts to expand the use of absentee ballots because of the coronavirus.
The plan, prepared by Secretary of State Kyle Ardoin, reduces the list of reasons that he had proposed last week for voters to qualifyto vote by mail.
Ardoin shortened the list after the Republicans on the Senate and Governmental Affairs Committee rejected his earlier proposal in a party-line vote.
Under the new plan, voters can still seek absentee ballots if they are at higher risk from the virus because of serious medical conditions or are subject to a medical quarantine order. People with symptoms of COVID-19 or caring for someone subject to a quarantine order also may seek absentee ballots.
The rules also would apply to state and local elections on August 15. The plan must still be approved by the full House and Senate and by Gov. John Bel Edwards.
No changes have been considered for the presidential and congressional elections in November.
Ardoin's original proposal also would have extended the early-voting period from seven to 13 days to allow for less concentrated groups of people gathering to cast their votes. It would have lowered an age threshold for requesting absentee ballots to 60 and older from 65 and older and allowed anyone who was worried about health risks to vote absentee.
Ardoin, a Republican, dropped those provisions after legislators complained last week that anyone could claim they had health concerns and qualify for an absentee ballot, potentially increasing the risk of some fraud.
"It seems like we are opening ourselves to more risk and fraud than ever," Sen. Barry Milligan, R-Shreveport, said then.
His comments echoed concerns expressed by President Trump, who claimed recently that "mail ballots are a very dangerous thing for this country, because they're cheaters."
Read more at the Lafourche Gazette.